Request an Appiontment
Phone: 012 54 32 11 | 081 89 47 47
From 09:00 to 17:00
Welcome to EUROVET Veterinary Clinics
If you live in Phnom Penh or the surrounding area and need a trusted veterinarian to care for your pets, look no further! EUROVET Veterinary Clinics are here for you.
EUROVET Veterinary Clinics operates in Veal Sbov from 2015 and we just opened our new clinic in Toul Tom Pong in December 2019.
Our clinics are veterinarian owned, comply with European standards and offer comprehensive and affordable care. Our services run the gamut from vaccines/spay/neuter to critical care, other surgeries such as orthopedic surgery and many other soft tissue surgeries, dentistry, pain management and wellness care. We offer IDEXX in-house blood analyzers (Blood Count and Biochemistry), Digital X-rays, ultrasound, ECG… and provide hospitalization and boarding.
Our experienced veterinarians are committed to staying on the cutting edge of innovative technology. We use only the most advanced veterinary medicine and equipment to treat our furry patients.
Opening Hours
Monday

09:00 - 12:00 | 15:00 - 19:00

Tuesday

09:00 - 12:00 | 15:00 - 19:00

Wednesday

09:00 - 12:00 | 15:00 - 19:00

Thursday

09:00 - 12:00 | 15:00 - 19:00

Friday

09:00 - 12:00 | 15:00 - 19:00

Saturday

09:00 - 12:00 | 15:00 - 19:00

Sunday

Closed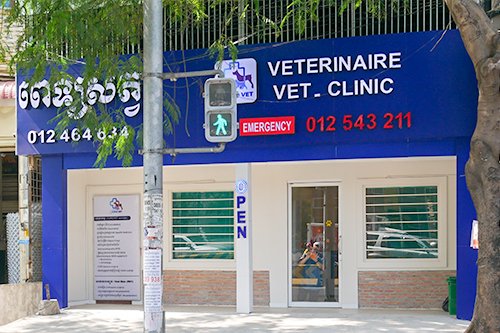 Opening Hours
Monday

09:00 - 18:00

Tuesday

09:00 - 18:00

Wednesday

09:00 - 18:00

Thursday

09:00 - 18:00

Friday

09:00 - 18:00

Saturday

09:00 - 18:00

Sunday

Closed
EMERGENCY 24/7 Tel: 012 54 32 11
Home - Service
CONVENIENCE
If your pet need medication by injection, vaccine, blood collection, a replacement of intravenous infusion, or any simple care, you can request EUROVET home veterinary service.
However, when dogs are sick or injured…or difficult to handle, they need to be examined in our clinics that are fully equipped with Digital X-ray, Ultrasound, and Laboratory.
This service is provided by experienced veterinarians working at EUROVET. Discover our Team (Click here)
REQUEST AN APPOINTMENT
Phone Number: 012 46 46 34 | 081 89 47 47
From 09:00 to 17:00
COMPETITIVE PRICING
The service is charged according to the service area
Services and facilities
Consultations
When your dog or cat is sick, our veterinarians perform extensive examinations and our in-clinic pharmacy allows for patients in need of medication to receive their treatment immediately.
Vaccinations
In Cambodia, Distemper, Parvovirus, Leptospirosis and Rabies are common diseases circulating and could be life threatening to your pet or your family. All these diseases can be prevented with a proper protocol of vaccination. Preventive care include as well treatment or prevention of external and internal parasites
General Surgery
Include spay/neuter, pyometra, ear hematoma, tumor removal, entropion surgery, bladder stone removal, to name a few. We do have electrosurgical bistouri.
Orthopedic Surgery
EUROVET can perform Bones Fracture Repair (pins, screws, bone plates, external and internal fixation, casts), Femoral Head Osteotomy, Cruciate Ligament Repair
Anesthesia
Systematic endotracheal intubation in dogs, Inhalant anesthetic with Isoflurane and multi-parameter monitoring.
Digital Radiography
Radiography—better known as X-rays—serves as one of the most common diagnostic tools in veterinary medicine. Digital X ray allows high- resolution pictures in just 2 minutes; we can send X-Ray pictures to your email
Ultrasound
Ultrasound at day 30 post breeding is a great diagnostic tool to confirm pregnancy. Ultrasound has the drawback of not being accurate to count puppies, but can show heartbeats in the puppies.
Electrocardiography (ECG)
It is used to diagnose irregularities in cardiovascular function and particularly Congestive Heart Failure that means that the heart cannot pump enough blood to the body. The cause is problem of valves between compartments of the heart. Efficient medical treatments are available.
Teeth scaling
Prevent bad breath! Dental cleaning is essential for your pet to maintain clean, strong teeth so that they always have fresh breath and are free of gum disease and other dental loss.
In-House Laboratory
UWe have an in-house laboratory in both clinics to run most essential blood tests, pre-surgical blood tests, and emergency blood profiles. We are equipped with American IDEXX Biochemistry Analyzer and Hematology Analyzer.
Hospitalization
Pets can be kept under observation even for long term, in a calm and clean environment with 24/7 care.
Our Team
All veterinarians at EUROVET are experienced and junior staffs receive continuing education, academic and practical trainings. Specialization trainings are provided by recognized clinics in France.
Tariffs
12 USD
Emergency consultation (out opening hours)
25 USD
20 USD
25 USD
Vaccination of cat Co+xxx
25 USD
30 USD
15 USD
Injection of Dectomax (Doramectine)
6 USD
15 USD
5 USD/ parameter
Blood checkup (6parameters)
25 USD
30 USD
30 USD
Small 15 USD | Big 20 USD
75 USD
40 USD
120 USD
70 USD
From 250 USD
Teeth scaling with anesthesia
50 USD
20 USD
Location
EUROVET Toul Tompong Branch | Tel: 012 46 46 34
EUROVET Veal Sbov Branch | Tel: 069 26 78 79
Pet Boarding
By definition a resort is a vast isolated place that provides an array of amenities, typically including entertainment and recreational activities; for this reason we are the only Pet Resort in Cambodia; it is operated for already 10 years.
The Pet Resort is situated in Kampong Svay Commune, on the bank of Bassac River on a land planted approximately 1.5 ha entirely closed. It is about 200 meters from the village and so dogs are free to bark during the playing sessions.
The Pet Resort is situated in Kampong Svay commune, along the Bassac River around 25 km far from the City Center
Contact or Reservation
• +855 (0) 12 916 512 (KH/EN/FR)
• +855 (0) 12 679 164 (KH/EN/FR)
Tariffs